Benefits of Foam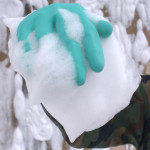 Foam is quickly becoming the tool of choice for first responders around the world. Recognized for its many advantages over water, foam is also proven to be more effective than liquid in areas such as hazmat cleanup and decontamination. Some of the benefits of foam include:
Foam maintains a longer wet contact time than a fluid. This translates into fewer applications and less concentrate required.
Foam is lighter than a fluid, resulting in longer throw distance. The user can maintain a greater distance from the 'threat' being addressed.
Being lighter, foam weighs much less in the hose, reducing user fatigue and minimizing personnel requirements.
Compared to a liquid, foam provides a clear visual indication of which area has been treated, and which may have been missed. This ensures that every surface is addressed, and prevents spraying the same area twice.
Foam creates a blanket that, when fighting a fire, (1) cools it; (2) secures the fuel by covering it; and (3) cuts off the oxygen supply.
When used in a decontamination/hazmat scenario, the foam 'blanket' keeps the target in place, minimizing spread.
Less water used results in less water damage, environmental damage due to drainage, loss of natural resources and reduces pollutants through reduced fire apparatus use.
Foam moistens fuels to prevent re-ignition.
Foam adheres to vertical and inverted surfaces.
Foam creates an insulating barrier against vapors, flame and heat.
Why Intelagard CAFS?
A Compressed Air Foam System (CAFS) is defined as a standard water pumping system that has an entry point where compressed air can be added to a foam solution to generate foam. Compressed air, whether provided by a compressor or high pressure air bottle, propels the foam farther than aspirated or standard water nozzles. As a whole, CAFS produce a more stable foam structure than aspirated systems do. Intelagard, using its proprietary Enviroshield® technology, sets the standard for a uniform structure of small bubbles. Intelagard CAFS are unique in that:
they do not use engine driven pumps. Intelagard CAFS's pumps do not use internal balancing valves, a failure-prone component of other CAFS pumps.
they are designed with self-priming pumps;
they have fewer moving parts than competing systems. Intelagard's design has no rotating shafts or impellers. They can run dry all day long and not destroy themselves like conventional CAFS pumps.
they do not have the number of friction points that centrifugal pump systems do. Intelagard's design eliminates these friction points, resulting in draft fluid distances – horizontal and vertical – much greater than that of other CAFS.
they are true multi-hazard response systems. Any Intelagard CAFS can be used to apply Class A, AFFF, AR-AFFF and protein foams for fire fighting AND foaming agents such as EasyDECON DF200 for use in hazmat response, mold control and many other applications. Because Intelagard systems are dual use (fire and decon), they qualify for purchase with both fire AND DHS grants!
Intelagard's CAFS are designed such that liquid storage tanks are never under pressure. Advantages of this include (1) the ability to refill while the system is running; (2) the fluid tank can be emptied completely, unlike pressure vessel systems; and (3) air cylinders can be replaced quickly in the field without the need to completely re-pressurize the system.  Certain Intelagard systems can even self-fill while conducting spray operations.
can draft directly either from on-board tanks or external fluid sources with 6 foot vertical lift capability.
they are modular. Intelagard CAFS can be scaled and integrated into literally any wheeled vehicle platform in accordance with user requirements.