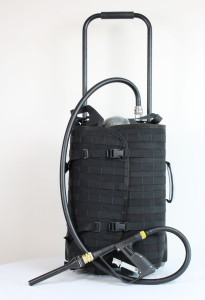 Intelagard's latest addition to its diverse, innovative and effective product lineup boasts qualities not seen in any other portable Compressed Air Foam Systems (CAFS) on the market today. This extremely compact, binary and inconspicuously designed portable unit functions as a backpack, a rolling 'carry-on suitcase' style system and a motorcycle/small vehicle-mounted rapid response CAFS.Emergency response personnel can now have full self-contained CAF technology ability without interfering with access to breathing air.
The Viper sports twin collapsible, removable and refillable bladders that are available in 1, 1.5 and 2 gallon (3.79, 5.69, and 7.57 L) sizes. Although batch mixing is always possible with any Intelagard system, the proprietary technology of the Viper allows the operator to mix any 2-part solution, such as EasyDECON DF200, at the time of deployment. Combination of the two formula components occurs at the pump prior to air injection, resulting in an optimal mix and uniform bubble structure, and  stainless steel components drastically reduce the risk of corrosion.
In use by groups that include the FBI, the Viper appeals to a wide array of end users looking for an agile, cost-effective and low profile rapid response capability. Call us today for more information!